Manure/water storage bags
Flex bag
After a long period of extensive testing, we developed a new cover for Tanks and Silo's The so-called "DL- Aircover". The DL-Aircover is extremely suitable as a top sealing of all type of Tanks and Silo's made of Steel, Wood or Concrete. The DL-Aircover is made of very high quality Polyester reinforced PVC fabrics, approved by KIWA. For the stability and the support is under the DL-Aircover a telescopic middle column installed. The correct shape and the stable construction is created by a fan that blows air continuous under the cover.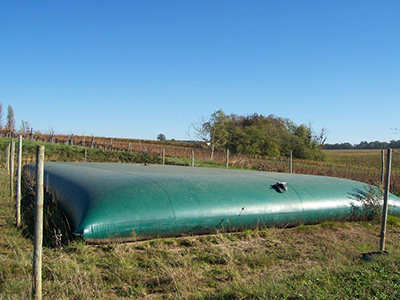 NEW: RENT-A-BAG
It is also possible that you can rent this "bag". We called it: "rolling and move". We can deliver it including transport. Don't hesitate to ask for the price.
Manure bags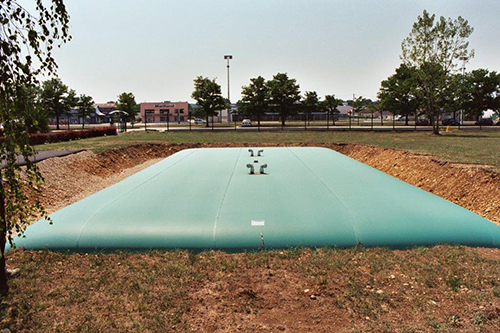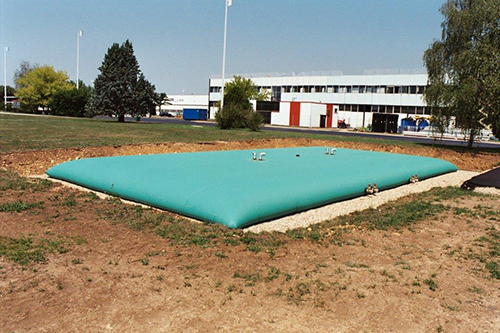 The manure bag is delivered in a square or rectangular shape, in consultation, with an inspection hatch. Furthermore, in consultation, pipes and seals are included. The material is especially designed for manure storage and consists of a polyester fabric with a PVC coating. Total weight approximately 1100 gr m2. The seams are both thermally and high frequency welded.
The bags can be supplied with a capacity of 1000 m3. The whole can be assembled on site by us. To avoid being blown about by the wind, due to vacuum suction, the whole is tensioned and secured with traps and fastened with picket posts.
Benefits
Suitable for soft ground, aesthetic (environmentally less obtrusive)
No rain in the manure (closed system)
Easy to build
No odour
No need for planning permission
Moveable
U.V. (Sunlight) resistant
Frost resistant to -30°C
Acid and salt-resistant
Long lifespan