Covers
A substantial galvanised steel section roof, which incorporates an intergral inspection hatch.
The roof is designed with 10 degree pitch whch allows sufficient dispersal of rainwater, whilst not significantly increasing the height at the centre of the silo. This type of roof would normally be fitted in areas with strong winds of high snowloads and where safety and protection against vandalism is a high priority.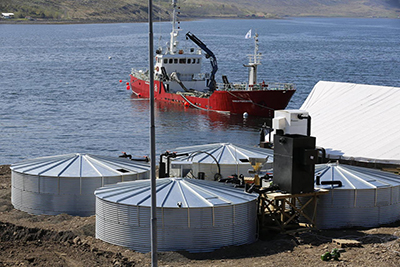 PVC reinforced Tensioned roofs: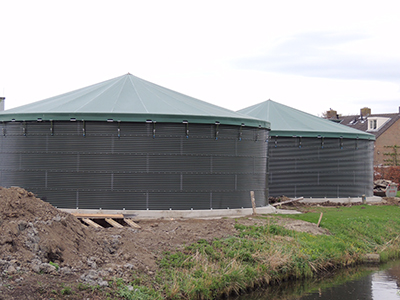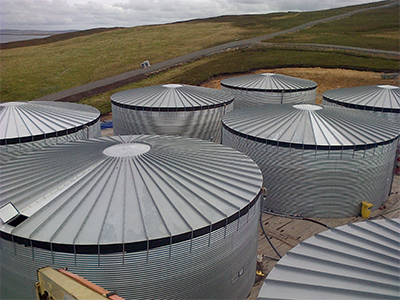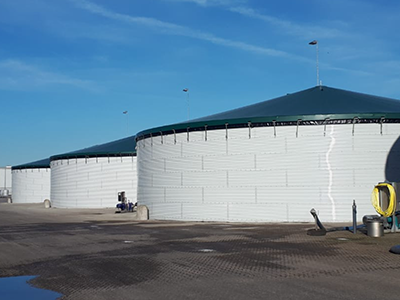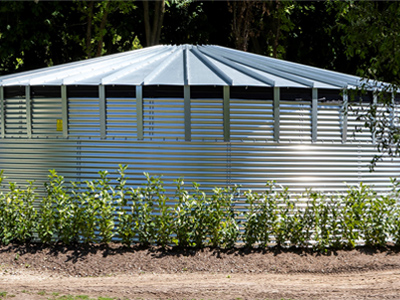 In recent years, we have delivered quite a few silo covers, made of reinforced PVC foil. Base material is a polyester fabric with a PVC coating on both sides 850 gr per m2. To be supplied in green or gray. This material is very durable.
We mainly supplies so-called tensioned covers. Suitable for steel, concrete or wooden silos. These tensioned covers are made exclusively of the aforementioned high-quality reinforced PVC. On the inside of the cover Trevira straps are welded to the canvas, which is mounted to the ridge on an RVS (stainless steel) ridge plate. Around this a valance with an open hem is welded, which is drawn over the silo edge. In order to tension the whole, the tube is slotted in it. Straps are attached to the tube which can be tensioned with or without the aid of ratchets. The silo cover is further tensioned by a centre column, which can be ordered separately on request. This centre column can be made of PVC or hardwood, in further consultation. The silo cover is further provided with a man hole and a mixing hatch. Our qualified engineers are available to assemble this structure for you.
After a long period of extensive testing, we developed a new cover for Tanks and Silo's The so-called "DL- Aircover". The DL-Aircover is extremely suitable as a top sealing of all type of Tanks and Silo's made of Steel, Wood or Concrete. The DL-Aircover is made of very high quality Polyester reinforced PVC fabrics, approved by KIWA. For the stability and the support is under the DL-Aircover a telescopic middle column installed. The correct shape and the stable construction is created by a fan that blows air continuous under the cover.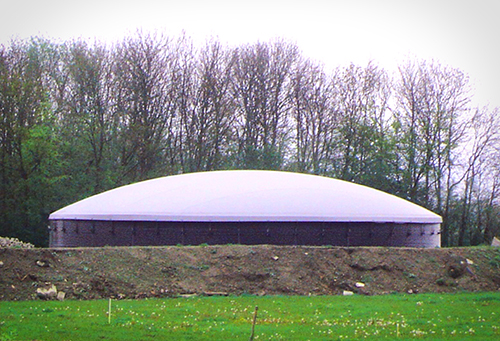 Anti-algae cover:
A cover of PP fabric about 200 gram a m2 for basins or tanks. Blocks sunlight and so prevents the most of forming of algae.